About Us
Spice of Bruerne is a Indian takeaway in Bruerne. Why don't you try our King Prawn Butterfly or Korai?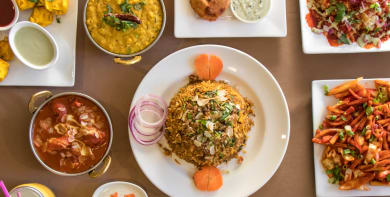 Reviews
251 reviews
George
"Lovely food"
07/01/2021
Ben
"Amazing food on a very busy night and delivered earlier than expected! Thank you."
31/12/2020
Abbie
"Always fantastic food and amazing service!!"
31/12/2020
Christopher
"Fantastic"
21/12/2020
Menu
Vijays Seafood Special
Mixed seafood cooked with special spice and herbs with chaat masala, semi-dry, medium hot, served with lemon and garlic rice
£14.95
Crab Curry
Crab cooked of the shell with ginger, curry leaves, garlic and coconut milk
£12.95
Roast Koonthal
Squid cooked with curry leaves, green chillies, ginger and slightly spiced
£12.95
Kakra Zinuk
Mussels and crab meat cooked with spring onion, garlic, ginger and coconut cream, mustard flavoured semi-dry sauce, medium spice
£12.95
Lobster Macher Malai Curry - Medium
Lobster curry cooked with coconut and mixed with medium spice tiger prawn
£24.95
Chingri Zinga
King prawns with the shells, flavoured with pepper, tomatoes, lemon juice, honey, herbs and spices in a medium sauce
£12.95
Zinga Hari Shobee
King prawn, broccoli, green chilli, peppers, onion, garlic, coriander, chef's special medium spice sauce
£13.95
Roshuni Zinga
Of the shell king prawn, lots of garlic with fairly hot chef's special sauce
£13.95
Numbuwali Machi (salmon fillets)
Salmon marinated in lime and tandoori spices in medium hot sauce
£12.95
Salmon Aspara (salmon fillets)
Salmon cooked with asparagus in a garlic flavoured sauce, medium hot
£12.95
Garlic Fish
Pangash fish fillets cooked with fresh garlic and stir fried with green pepper, spring onions and seasoned with herbs
£11.95
Shahi Machi Biron (Tilapia fillets)
Large fish fillets shallow fried with shredded onion, peppers, green chilli, garlic, coriander and mustard seed, medium spice semi-dry
£12.95
Rup Chanda
Shallow fried pomfret.
A tropical West Bengali fish with onion and pepper cooked with medium bhuna sauce
£12.95
Machi Aam Curry
Fish fillets cooked in medium spices with ripened mangoes and coconut
£12.95
Majhan Masala Chicken
Chicken or lamb tikka cooked in a spicy tomato and onion sauce
£8.95
Majhan Masala Lamb
Chicken or lamb tikka cooked in a spicy tomato and onion sauce
£9.95
Aash Aur Komla
Duck cooked with fresh orange in a medium spice
£11.95
Nalli Ghosht
Nuts
Lamb shank cooked in a Marathi style, flavoured with peanut butter, red chillies, garlic and lime
£11.95
Chicken Silsila - Mild
Nuts
Chicken marinated in spices then cooked in a special silsila sauce
£8.95
Peri Peri - Medium Chicken
Tender lamb or spring chicken cubes spiced with garlic, light soya and a peri peri sauce with dry red chillies and sun dried tomatoes
£8.95
Peri Peri - Medium Lamb
Tender lamb or spring chicken cubes spiced with garlic, light soya and a peri peri sauce with dry red chillies and sun dried tomatoes
£9.95
Chicken Rezala
Grilled chicken of the bone with minced lamb, capsicum, onions, tomatoes and green chillies
£8.95
Sizzling Murgh
Spring chicken breast lightly spiced and grilled, served with stir fried mixed peppers, shallots, baby corn and French beans
£8.95
Kata Masala Chicken
Fresh ginger cooked with chicken or lamb in our chef's special sauce
£8.95
Kata Masala Lamb
Fresh ginger cooked with chicken or lamb in our chef's special sauce
£9.95
Garlic Chicken
Cooked with fresh garlic and stir fried with green pepper, spring onions and seasoned with herbs
£8.95
Garlic Lamb
Cooked with fresh garlic and stir fried with green pepper, spring onions and seasoned with herbs
£9.95
Moglai Chicken
Served in a medium, thick sauce with egg
£8.95
Moglai Lamb
Served in a medium, thick sauce with egg
£9.95
Naga Chicken
Hot pepper from Bangladesh, cooked with spring onions, garlic and herbs in a fairly hot sauce
£8.95
Naga Lamb
Hot pepper from Bangladesh, cooked with spring onions, garlic and herbs in a fairly hot sauce
£9.95
Shatkora Chicken
A traditional Bangladesh citrus fruit cooked in a medium bhuna style sauce
£8.95
Shatkora Lamb
A traditional Bangladesh citrus fruit cooked in a medium bhuna style sauce
£9.95
Amiri Masala
Spring chicken on the bone cooked with spicy lamb mince touch of green chillies and Darjeeling spices, finished in a yoghurt and tamarind sauce
£9.95
Amchor Chicken
Tangy medium chicken breast or tender lamb, cooked with spicy mixed pickle and herbs with thick sauce
£8.95
Amchor Lamb
Tangy medium chicken breast or tender lamb, cooked with spicy mixed pickle and herbs with thick sauce
£9.95
Murgh Khandani
Of the bone marinated chicken, grilled in the tandoor and mixed with minced lamb, served in a hot thick sauce with green chillies, tomatoes, diced onions, capsicum and special herbs and spices
£9.95
Bangladeshi Poncho Khana Chicken
Chicken or lamb cooked with the tandoori mushroom, fresh ginger, chopped onion, coriander, green chillies and thick sauce
£11.95
Bangladeshi Poncho Khana Lamb
Chicken or lamb cooked with the tandoori mushroom, fresh ginger, chopped onion, coriander, green chillies and thick sauce
£12.95
Garlic Chilli Chicken
Fairly hot
Cooked in fresh garlic and chilli sauce with caramelised onions
£7.95
Garlic Chilli Paneer
Fairly hot
Cooked in fresh garlic and chilli sauce with caramelised onions
£7.95
Garlic Chilli Prawn
Fairly hot
Cooked in fresh garlic and chilli sauce with caramelised onions
£8.95
Garlic Chilli Lamb
Fairly hot
Cooked in fresh garlic and chilli sauce with caramelised onions
£8.95
Garlic Chilli King Prawn
Fairly hot
Cooked in fresh garlic and chilli sauce with caramelised onions
£10.95
Ajwani Curry Chicken
Traditional festive dish in an unusual blend of chillies and carom seed served in a tomato gravy
£7.95
Ajwani Curry Paneer
Traditional festive dish in an unusual blend of chillies and carom seed served in a tomato gravy
£7.95
Ajwani Curry Prawn
Traditional festive dish in an unusual blend of chillies and carom seed served in a tomato gravy
£8.95
Ajwani Curry Lamb
Traditional festive dish in an unusual blend of chillies and carom seed served in a tomato gravy
£8.95
Ajwani Curry King Prawn
Traditional festive dish in an unusual blend of chillies and carom seed served in a tomato gravy
£10.95
Butter from Panjab Chicken
A dish of tikka simmered in a satin smooth tomato gravy, redolent, kasoori methi with butter
£7.95
Butter from Panjab Paneer
A dish of tikka simmered in a satin smooth tomato gravy, redolent, kasoori methi with butter
£7.95
Butter from Panjab Prawn
A dish of tikka simmered in a satin smooth tomato gravy, redolent, kasoori methi with butter
£8.95
Butter from Panjab Lamb
A dish of tikka simmered in a satin smooth tomato gravy, redolent, kasoori methi with butter
£8.95
Butter from Panjab King Prawn
A dish of tikka simmered in a satin smooth tomato gravy, redolent, kasoori methi with butter
£10.95
Pad Thai Vegetarian
Special Thai style noodles, bean sprout, spring onions, egg and ground peanut
£6.95
Pad Thai Chicken
Special Thai style noodles, bean sprout, spring onions, egg and ground peanut
£7.95
Pad Thai Prawn
Special Thai style noodles, bean sprout, spring onions, egg and ground peanut
£8.95
Pad Ba Mee
Dry egg noodles with bean sprout and spring onions
£5.95
Mix Vegetables Side
Curry or bhaji
£3.15
Mix Vegetables Meal
Curry or bhaji
£5.15
Aloo Ghobi Side
Potatoes and cauliflower
£3.15
Aloo Ghobi Meal
Potatoes and cauliflower
£5.15
Bombay Aloo Side
Spicy potatoes
£3.15
Bombay Aloo Meal
Spicy potatoes
£5.15
Aloo Palak Side
Potatoes and spinach
£3.15
Aloo Palak Meal
Potatoes and spinach
£5.15
Courgette Bhaji Side
Tender courgettes in our chef's special recipe
£3.15
Courgette Bhaji Meal
Tender courgettes in our chef's special recipe
£5.15
Niramish Side
Sweet and sour variety of vegetables in dry sauce
£3.15
Niramish Meal
Sweet and sour variety of vegetables in dry sauce
£5.15
Dhall 'ki' Palak Side
Lentils and spinach
£3.15
Dhall 'ki' Palak Meal
Lentils and spinach
£5.15
Tarka Dhall Side
Lentils lightly spiced with garlic
£3.15
Tarka Dhall Meal
Lentils lightly spiced with garlic
£5.15
Motor Paneer Side
Peas and cheese in mild sauce
£3.15
Motor Paneer Meal
Peas and cheese in mild sauce
£5.15
Palak Paneer Side
Spinach and cheese
£3.15
Palak Paneer Meal
Spinach and cheese
£5.15
Bindi Bhaji Side
Fresh okra cooked in medium spices
£3.15
Bindi Bhaji Meal
Fresh okra cooked in medium spices
£5.15
Vatana Batata Side
French beans cooked with peas and potato
£3.15
Vatana Batata Meal
French beans cooked with peas and potato
£5.15
Auri aur koodu Side
Pumpkin and fresh bean curry
£3.15
Auri aur koodu Meal
Pumpkin and fresh bean curry
£5.15
Aam Diya Dhall Side
Spicy lentils with mango
£3.15
Aam Diya Dhall Meal
Spicy lentils with mango
£5.15
Baby Sweetcorn Bhaji Side
Baby sweetcorn cooked in a special sauce
£3.15
Baby Sweetcorn Bhaji Meal
Baby sweetcorn cooked in a special sauce
£5.15
Bhagun Bhaji Side
Aubergine
£3.15
Bhagun Bhaji Meal
Aubergine
£5.15
Chana Masala Side
Chickpeas
£3.15
Chana Masala Meal
Chickpeas
£5.15
Aloo Chana Side
Potato with chickpeas
£3.15
Aloo Chana Meal
Potato with chickpeas
£5.15
Curry Vegetable
Medium Hot
£5.15
Curry King Prawn
Medium Hot
£8.95
Madras Vegetable
Fairly hot
£5.15
Madras Chicken
Fairly hot
£5.95
Madras King Prawn
Fairly hot
£8.95
Korma Vegetable
Nuts
Mild with coconut
£5.15
Korma Chicken
Nuts
Mild with coconut
£5.95
Korma Paneer
Nuts
Mild with coconut
£5.95
Korma Lamb
Nuts
Mild with coconut
£6.95
Korma Prawn
Nuts
Mild with coconut
£6.95
Korma King Prawn
Nuts
Mild with coconut
£8.95
Bhuna Vegetable
Medium with tomatoes
£5.15
Bhuna Chicken
Medium with tomatoes
£5.95
Bhuna Paneer
Medium with tomatoes
£5.95
Bhuna Lamb
Medium with tomatoes
£6.95
Bhuna Prawn
Medium with tomatoes
£6.95
Bhuna King Prawn
Medium with tomatoes
£8.95
Rogan Vegetable
Medium with tomatoes
£5.15
Rogan Chicken
Medium with tomatoes
£5.95
Rogan Paneer
Medium with tomatoes
£5.95
Rogan Lamb
Medium with tomatoes
£6.95
Rogan Prawn
Medium with tomatoes
£6.95
Rogan King Prawn
Medium with tomatoes
£8.95
Dopiaza Vegetable
Medium with onions
£5.15
Dopiaza Chicken
Medium with onions
£5.95
Dopiaza Paneer
Medium with onions
£5.95
Dopiaza Lamb
Medium with onions
£6.95
Dopiaza Prawn
Medium with onions
£6.95
Dopiaza King Prawn
Medium with onions
£8.95
Methi Vegetable
Medium with fenugreek leaves
£5.15
Methi Chicken
Medium with fenugreek leaves
£5.95
Methi Paneer
Medium with fenugreek leaves
£5.95
Methi Lamb
Medium with fenugreek leaves
£6.95
Methi Prawn
Medium with fenugreek leaves
£6.95
Methi King Prawn
Medium with fenugreek leaves
£8.95
Palak Vegetable
medium with spinach
£6.95
Palak Chicken
medium with spinach
£7.95
Palak Paneer
medium with spinach
£7.95
Palak Lamb
medium with spinach
£8.95
Palak Prawn
medium with spinach
£8.95
Palak King Prawn
medium with spinach
£10.95
Tikka Masala Vegetable
Nuts
£6.95
Tikka Masala Chicken
Nuts
£7.95
Tikka Masala King Prawn
Nuts
£10.95
Jalfrezi Vegetable
With onions, tomatoes, peppers and green chillies
£6.95
Jalfrezi Chicken
With onions, tomatoes, peppers and green chillies
£7.95
Jalfrezi Paneer
With onions, tomatoes, peppers and green chillies
£7.95
Jalfrezi Lamb
With onions, tomatoes, peppers and green chillies
£8.95
Jalfrezi Prawn
With onions, tomatoes, peppers and green chillies
£8.95
Jalfrezi King Prawn
With onions, tomatoes, peppers and green chillies
£10.95
Pasanda Vegetable
Nuts
Cooked in a mild sauce with almonds, sultanas, cashew nuts, coconut and cream
£6.95
Pasanda Chicken
Nuts
Cooked in a mild sauce with almonds, sultanas, cashew nuts, coconut and cream
£7.95
Pasanda Paneer
Nuts
Cooked in a mild sauce with almonds, sultanas, cashew nuts, coconut and cream
£7.95
Pasanda Lamb
Nuts
Cooked in a mild sauce with almonds, sultanas, cashew nuts, coconut and cream
£8.95
Pasanda Prawn
Nuts
Cooked in a mild sauce with almonds, sultanas, cashew nuts, coconut and cream
£8.95
Pasanda King Prawn
Nuts
Cooked in a mild sauce with almonds, sultanas, cashew nuts, coconut and cream
£10.95
Korai Vegetable
With capsicum, onions, herbs and spices
£6.95
Korai Chicken
With capsicum, onions, herbs and spices
£7.95
Korai Paneer
With capsicum, onions, herbs and spices
£7.95
Korai Lamb
With capsicum, onions, herbs and spices
£8.95
Korai Prawn
With capsicum, onions, herbs and spices
£8.95
Korai King Prawn
With capsicum, onions, herbs and spices
£10.95
Dansak Vegetable
Hot, sweet and sour with lentils
£6.95
Dansak Chicken
Hot, sweet and sour with lentils
£7.95
Dansak Paneer
Hot, sweet and sour with lentils
£7.95
Dansak Lamb
Hot, sweet and sour with lentils
£8.95
Dansak Prawn
Hot, sweet and sour with lentils
£8.95
Dansak King Prawn
Hot, sweet and sour with lentils
£10.95
Pathia Vegetable
Hot, sweet and sour in a thick sauce
£6.95
Pathia Chicken
Hot, sweet and sour in a thick sauce
£7.95
Pathia Paneer
Hot, sweet and sour in a thick sauce
£7.95
Pathia Lamb
Hot, sweet and sour in a thick sauce
£8.95
Pathia Prawn
Hot, sweet and sour in a thick sauce
£8.95
Pathia King Prawn
Hot, sweet and sour in a thick sauce
£10.95
Malaya Vegetable
Medium spiced with pineapple
£6.95
Malaya Chicken
Medium spiced with pineapple
£7.95
Malaya Paneer
Medium spiced with pineapple
£7.95
Malaya Lamb
Medium spiced with pineapple
£8.95
Malaya Prawn
Medium spiced with pineapple
£8.95
Malaya King Prawn
Medium spiced with pineapple
£10.95
Ceylon Vegetable
Fairly hot with coconut
£6.95
Ceylon Chicken
Fairly hot with coconut
£7.95
Ceylon Paneer
Fairly hot with coconut
£7.95
Ceylon Lamb
Fairly hot with coconut
£8.95
Ceylon Prawn
Fairly hot with coconut
£8.95
Ceylon King Prawn
Fairly hot with coconut
£10.95
Butter Vegetable
Nuts
Grilled and cooked in pure butter ghee and fresh cream
£6.95
Butter Chicken
Nuts
Grilled and cooked in pure butter ghee and fresh cream
£7.95
Butter Paneer
Nuts
Grilled and cooked in pure butter ghee and fresh cream
£7.95
Butter Lamb
Nuts
Grilled and cooked in pure butter ghee and fresh cream
£8.95
Butter Prawn
Nuts
Grilled and cooked in pure butter ghee and fresh cream
£8.95
Butter King Prawn
Nuts
Grilled and cooked in pure butter ghee and fresh cream
£10.95
Makhani Vegetable
Nuts
Grilled and cooked in a mild thick sauce with butter, yoghurt and fresh cream
£6.95
Makhani Chicken
Nuts
Grilled and cooked in a mild thick sauce with butter, yoghurt and fresh cream
£7.95
Makhani Paneer
Nuts
Grilled and cooked in a mild thick sauce with butter, yoghurt and fresh cream
£7.95
Makhani Lamb
Nuts
Grilled and cooked in a mild thick sauce with butter, yoghurt and fresh cream
£8.95
Makhani Prawn
Nuts
Grilled and cooked in a mild thick sauce with butter, yoghurt and fresh cream
£8.95
Makhani King Prawn
Nuts
Grilled and cooked in a mild thick sauce with butter, yoghurt and fresh cream
£10.95
Curry Chicken Tikka
Medium Hot
£6.95
Curry Lamb Tikka
Medium Hot
£7.95
Madras Chicken Tikka
Fairly hot
£6.95
Madras Lamb Tikka
Fairly hot
£7.95
Korma Chicken Tikka
Nuts
Mild with coconut
£6.95
Korma Lamb Tikka
Nuts
Mild with coconut
£7.95
Bhuna Chicken Tikka
Medium with tomatoes
£6.95
Bhuna Lamb Tikka
Medium with tomatoes
£7.95
Rogan Chicken Tikka
Medium with tomatoes
£6.95
Rogan Lamb Tikka
Medium with tomatoes
£7.95
Dopiaza Chicken Tikka
Medium with onions
£6.95
Dopiaza Lamb Tikka
Medium with onions
£7.95
Methi Chicken Tikka
Medium with fenugreek leaves
£6.95
Methi Lamb Tikka
Medium with fenugreek leaves
£7.95
Palak Chicken Tikka
medium with spinach
£8.95
Palak Lamb Tikka
medium with spinach
£9.95
Tikka Masala Chicken Tikka
Nuts
£8.95
Tikka Masala Lamb Tikka
Nuts
£9.95
Jalfrezi Chicken Tikka
With onions, tomatoes, peppers and green chillies
£8.95
Jalfrezi Lamb Tikka
With onions, tomatoes, peppers and green chillies
£9.95
Pasanda Chicken Tikka
Nuts
Cooked in a mild sauce with almonds, sultanas, cashew nuts, coconut and cream
£8.95
Pasanda Lamb Tikka
Nuts
Cooked in a mild sauce with almonds, sultanas, cashew nuts, coconut and cream
£9.95
Korai Chicken Tikka
With capsicum, onions, herbs and spices
£8.95
Korai Lamb Tikka
With capsicum, onions, herbs and spices
£9.95
Dansak Chicken Tikka
Hot, sweet and sour with lentils
£8.95
Dansak Lamb Tikka
Hot, sweet and sour with lentils
£9.95
Pathia Chicken Tikka
Hot, sweet and sour in a thick sauce
£8.95
Pathia Lamb Tikka
Hot, sweet and sour in a thick sauce
£9.95
Malaya Chicken Tikka
Medium spiced with pineapple
£8.95
Malaya Lamb Tikka
Medium spiced with pineapple
£9.95
Ceylon Chicken Tikka
Fairly hot with coconut
£8.95
Ceylon Lamb Tikka
Fairly hot with coconut
£9.95
Butter Chicken Tikka
Nuts
Grilled and cooked in pure butter ghee and fresh cream
£8.95
Butter Lamb Tikka
Nuts
Grilled and cooked in pure butter ghee and fresh cream
£9.95
Makhani Chicken Tikka
Nuts
Grilled and cooked in a mild thick sauce with butter, yoghurt and fresh cream
£8.95
Makhani Lamb Tikka
Nuts
Grilled and cooked in a mild thick sauce with butter, yoghurt and fresh cream
£9.95
House Special
Shredded chicken and lamb tikka, prawn, garlic and cheese, dry sauce
£6.95
Aloo Tikki
Fried potato cakes highly spiced
£3.15
Murgh Kaleji
Chicken liver and mushrooms sauteed with chopped ginger, lime and light spices
£4.50
Fish Croquettes
Mashed fish with potato in medium spices, coated in egg white and deep fried
£4.00
Bhaigan Katri
Aubergine rings stuffed with vegetables
£3.15
Salad De Caranguejos
Crab cooked with coconut and curry leaves in very light spices
£6.95
Chicken Pakora
Minced chicken mixed with spices, coated in batter and deep fried
£4.00
Tandoori Mushrooms
With a mint chutney and a tamarind date sauce
£3.50
Spicy Chicken Wings
Chicken wings marinated in tandoori spices and cooked in clay oven
£4.00
Steamed Mussels
With an orange sauce
£5.95
Tandoori Chicken Starter
On the bone spring chicken marinated in herbs and spices, cooked in the clay oven
£4.00
Tikka Starter Chicken
Chicken or lamb marinated in herbs and spices, cooked in the clay oven
£4.00
Tikka Starter Lamb
Chicken or lamb marinated in herbs and spices, cooked in the clay oven
£4.00
Puri Prawn
Succulent prawn or chicken cooked with an evocative blend of spices served on fried bread
£4.25
Puri Lamb
Succulent prawn or chicken cooked with an evocative blend of spices served on fried bread
£4.25
Puri Chicken
Succulent prawn or chicken cooked with an evocative blend of spices served on fried bread
£4.25
Suka Aash
Duck in a tamarind sauce
£6.50
Chaat Chicken
Diced chicken cooked in a chaat masala, with finely chopped cucumber, tomatoes and mixed herbs
£4.00
Chaat Lamb
Diced chicken cooked in a chaat masala, with finely chopped cucumber, tomatoes and mixed herbs
£4.00
Chaat Prawn
Diced chicken cooked in a chaat masala, with finely chopped cucumber, tomatoes and mixed herbs
£4.00
Seekh Kebab
Minced lamb marinated in lemon juice, mint, coriander, onion, garlic and green chilli, cooked in the tandoor
£4.00
Kebab Shami
Ground lamb mixed with precooked legume and curry spices, formed as a hamburger patty and pan-fried
£4.00
Kebab Reshmi
Ground lamb mixed with precooked legume and curry spices, formed as a hamburger patty and pan-fried
£4.00
Mixed Platter
Selection of lamb, chicken and vegetables
£5.95
Tandoori King Prawn
King prawns grilled in the clay oven with fresh herbs and spices
£6.95
King Prawn Puri
Large king prawns cooked with an evocative blend of spices served on fried bread
£6.95
King Prawn Butterfly
King prawns slightly spiced, coated in golden breadcrumbs and deep fried
£5.95
Garlic Mushroom
Mushrooms sliced, cooked with garlic and light spices
£3.15
Tandoori Lamb Chops Starter
On the bone lamb chops, marinated in herbs and spices, cooked in the charcoal clay oven
£6.50
Murgh Sati
Diced chicken marinated in light spices with lime zest and grilled
£4.00
Prawn Cocktail
Prawn served with mayonnaise, flavoured with tomato puri and served with salad
£3.95
Nimbuwall Scallops
Lime and coriander flavoured, stir fried queen scallops
£6.95
Spice of Bruerne Special Mix Biriani
£11.95
Deshi Biriani Chicken
Shredded chicken or lamb, mushroom and chickpeas
£11.95
Deshi Biriani Lamb
Shredded chicken or lamb, mushroom and chickpeas
£11.95
House Special Naan
Chopped chicken tikka with fresh coriander and cheese
£3.15
Stuffed Paratha
Stuffed with vegetables
£2.70
Special Mixed Tandoori
Chicken tikka, lamb tikka, paneer tikka, seekh kebab, grilled vegetable, garnished spicy onions and peppers, served with naan bread
£12.95
Tandoori Sea Bass
Sea bass fillets marinated herbs and spices, grilled in clay oven
£12.95
Tandoori Jhinga
King prawn grilled in the clay oven with fresh herbs and spices
£12.95
Salmon Tikka
Marinated salmon fillets grilled in the clay oven with fresh herbs and spices
£12.95
Tandoori Lamb Chops
Lamb chops marinated in tandoori sauce and herbs
£11.95
Tandoori Mixed Grill
Marinated chicken and lamb tikka, seekh kebab and tandoori chicken grilled in clay oven, garnished with fried onion and served with naan bread
£11.95
Tandoori Chicken
On the bone chicken marinated in herbs and spice served with naan
£7.95
Tiger Prawn Shashlik
Grilled with tomatoes capsicum and onion, cooked in clay oven
£10.95
King Prawn Shashlik
Grilled with tomatoes capsicum and onion, cooked in clay oven
£11.95
Vegetable Shashlik (mixed vegetables)
Grilled with onion, tomatoes, capsicum in the clay oven
£6.95
Paneer Tikka Shashlik
Traditional Indian cheese grilled with tomatoes capsicum and onion and herbs
£8.95
Tikka Chicken
Marinated in sauce and grilled in clay oven
£8.95
Tikka Lamb
Marinated in sauce and grilled in clay oven
£8.95
Special Fried Rice
Fried egg, peas and onions
£3.15
Kashmiri Rice
Nuts
Nuts and almonds
£3.15
Keema Rice
Spiced minced lamb in basmati rice
£3.50
Spice of Bruerne Special Mix Balti
£11.95
Deshi Balti Chicken Tikka
Shredded chicken or lamb tikka, mushroom and chickpeas
£11.95
Deshi Balti Lamb Tikka
Shredded chicken or lamb tikka, mushroom and chickpeas
£11.95
Contact Us
Find Us
5 Canal Side, Bruerne, NN127SE
We deliver to
MK19, NN12, NN4, NN7