About Us
Spice of Bruerne is a Indian takeaway in Bruerne. Why don't you try our King Prawn Butterfly or Korai?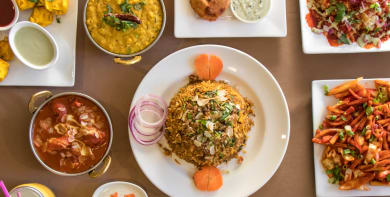 Reviews
214 reviews
Sue
"Excellent service. Have ordered from them several times. Each time very good."
04/07/2020
Thomas
"Food was amazing! Thank you"
04/07/2020
Gemma
"Very very good food and very much enjoyed! Thank you"
03/07/2020
Marcella
"5* food - we were very impressed with our meal."
19/06/2020
Menu
Vijays Seafood Special
Mixed seafood cooked with special spice and herbs with chaat masala, semi-dry, medium hot, served with lemon and garlic rice
£14.95
Crab Curry
Crab cooked of the shell with ginger, curry leaves, garlic and coconut milk
£12.95
Roast Koonthal
Squid cooked with curry leaves, green chillies, ginger and slightly spiced
£12.95
Kakra Zinuk
Mussels and crab meat cooked with spring onion, garlic, ginger and coconut cream, mustard flavoured semi-dry sauce, medium spice
£12.95
Lobster Macher Malai Curry - Medium
Lobster curry cooked with coconut and mixed with medium spice tiger prawn
£24.95
Chingri Zinga
King prawns with the shells, flavoured with pepper, tomatoes, lemon juice, honey, herbs and spices in a medium sauce
£12.95
Zinga Hari Shobee
King prawn, broccoli, green chilli, peppers, onion, garlic, coriander, chef's special medium spice sauce
£13.95
Roshuni Zinga
Of the shell king prawn, lots of garlic with fairly hot chef's special sauce
£13.95
Numbuwali Machi (salmon fillets)
Salmon marinated in lime and tandoori spices in medium hot sauce
£12.95
Salmon Aspara (salmon fillets)
Salmon cooked with asparagus in a garlic flavoured sauce, medium hot
£12.95
Garlic Fish
Pangash fish fillets cooked with fresh garlic and stir fried with green pepper, spring onions and seasoned with herbs
£11.95
Shahi Machi Biron (Tilapia fillets)
Large fish fillets shallow fried with shredded onion, peppers, green chilli, garlic, coriander and mustard seed, medium spice semi-dry
£12.95
Rup Chanda
Shallow fried pomfret.
A tropical West Bengali fish with onion and pepper cooked with medium bhuna sauce
£12.95
Machi Aam Curry
Fish fillets cooked in medium spices with ripened mangoes and coconut
£12.95
Majhan Masala Chicken
Chicken or lamb tikka cooked in a spicy tomato and onion sauce
£8.95
Majhan Masala Lamb
Chicken or lamb tikka cooked in a spicy tomato and onion sauce
£9.95
Aash Aur Komla
Duck cooked with fresh orange in a medium spice
£11.95
Nalli Ghosht
Nuts
Lamb shank cooked in a Marathi style, flavoured with peanut butter, red chillies, garlic and lime
£11.95
Chicken Silsila - Mild
Nuts
Chicken marinated in spices then cooked in a special silsila sauce
£8.95
Peri Peri - Medium Chicken
Tender lamb or spring chicken cubes spiced with garlic, light soya and a peri peri sauce with dry red chillies and sun dried tomatoes
£8.95
Peri Peri - Medium Lamb
Tender lamb or spring chicken cubes spiced with garlic, light soya and a peri peri sauce with dry red chillies and sun dried tomatoes
£9.95
Chicken Rezala
Grilled chicken of the bone with minced lamb, capsicum, onions, tomatoes and green chillies
£8.95
Sizzling Murgh
Spring chicken breast lightly spiced and grilled, served with stir fried mixed peppers, shallots, baby corn and French beans
£8.95
Kata Masala Chicken
Fresh ginger cooked with chicken or lamb in our chef's special sauce
£8.95
Kata Masala Lamb
Fresh ginger cooked with chicken or lamb in our chef's special sauce
£9.95
Garlic Chicken
Cooked with fresh garlic and stir fried with green pepper, spring onions and seasoned with herbs
£8.95
Garlic Lamb
Cooked with fresh garlic and stir fried with green pepper, spring onions and seasoned with herbs
£9.95
Moglai Chicken
Served in a medium, thick sauce with egg
£8.95
Moglai Lamb
Served in a medium, thick sauce with egg
£9.95
Naga Chicken
Hot pepper from Bangladesh, cooked with spring onions, garlic and herbs in a fairly hot sauce
£8.95
Naga Lamb
Hot pepper from Bangladesh, cooked with spring onions, garlic and herbs in a fairly hot sauce
£9.95
Shatkora Chicken
A traditional Bangladesh citrus fruit cooked in a medium bhuna style sauce
£8.95
Shatkora Lamb
A traditional Bangladesh citrus fruit cooked in a medium bhuna style sauce
£9.95
Amiri Masala
Spring chicken on the bone cooked with spicy lamb mince touch of green chillies and Darjeeling spices, finished in a yoghurt and tamarind sauce
£9.95
Amchor Chicken
Tangy medium chicken breast or tender lamb, cooked with spicy mixed pickle and herbs with thick sauce
£8.95
Amchor Lamb
Tangy medium chicken breast or tender lamb, cooked with spicy mixed pickle and herbs with thick sauce
£9.95
Murgh Khandani
Of the bone marinated chicken, grilled in the tandoor and mixed with minced lamb, served in a hot thick sauce with green chillies, tomatoes, diced onions, capsicum and special herbs and spices
£9.95
Bangladeshi Poncho Khana Chicken
Chicken or lamb cooked with the tandoori mushroom, fresh ginger, chopped onion, coriander, green chillies and thick sauce
£11.95
Bangladeshi Poncho Khana Lamb
Chicken or lamb cooked with the tandoori mushroom, fresh ginger, chopped onion, coriander, green chillies and thick sauce
£12.95
Garlic Chilli Chicken
Fairly hot
Cooked in fresh garlic and chilli sauce with caramelised onions
£7.95
Garlic Chilli Paneer
Fairly hot
Cooked in fresh garlic and chilli sauce with caramelised onions
£7.95
Garlic Chilli Prawn
Fairly hot
Cooked in fresh garlic and chilli sauce with caramelised onions
£8.95
Garlic Chilli Lamb
Fairly hot
Cooked in fresh garlic and chilli sauce with caramelised onions
£8.95
Garlic Chilli King Prawn
Fairly hot
Cooked in fresh garlic and chilli sauce with caramelised onions
£10.95
Ajwani Curry Chicken
Traditional festive dish in an unusual blend of chillies and carom seed served in a tomato gravy
£7.95
Ajwani Curry Paneer
Traditional festive dish in an unusual blend of chillies and carom seed served in a tomato gravy
£7.95
Ajwani Curry Prawn
Traditional festive dish in an unusual blend of chillies and carom seed served in a tomato gravy
£8.95
Ajwani Curry Lamb
Traditional festive dish in an unusual blend of chillies and carom seed served in a tomato gravy
£8.95
Ajwani Curry King Prawn
Traditional festive dish in an unusual blend of chillies and carom seed served in a tomato gravy
£10.95
Butter from Panjab Chicken
A dish of tikka simmered in a satin smooth tomato gravy, redolent, kasoori methi with butter
£7.95
Butter from Panjab Paneer
A dish of tikka simmered in a satin smooth tomato gravy, redolent, kasoori methi with butter
£7.95
Butter from Panjab Prawn
A dish of tikka simmered in a satin smooth tomato gravy, redolent, kasoori methi with butter
£8.95
Butter from Panjab Lamb
A dish of tikka simmered in a satin smooth tomato gravy, redolent, kasoori methi with butter
£8.95
Butter from Panjab King Prawn
A dish of tikka simmered in a satin smooth tomato gravy, redolent, kasoori methi with butter
£10.95
Pad Thai Vegetarian
Special Thai style noodles, bean sprout, spring onions, egg and ground peanut
£6.95
Pad Thai Chicken
Special Thai style noodles, bean sprout, spring onions, egg and ground peanut
£7.95
Pad Thai Prawn
Special Thai style noodles, bean sprout, spring onions, egg and ground peanut
£8.95
Pad Ba Mee
Dry egg noodles with bean sprout and spring onions
£5.95
Mix Vegetables Side
Curry or bhaji
£3.15
Mix Vegetables Meal
Curry or bhaji
£5.15
Aloo Ghobi Side
Potatoes and cauliflower
£3.15
Aloo Ghobi Meal
Potatoes and cauliflower
£5.15
Bombay Aloo Side
Spicy potatoes
£3.15
Bombay Aloo Meal
Spicy potatoes
£5.15
Aloo Palak Side
Potatoes and spinach
£3.15
Aloo Palak Meal
Potatoes and spinach
£5.15
Courgette Bhaji Side
Tender courgettes in our chef's special recipe
£3.15
Courgette Bhaji Meal
Tender courgettes in our chef's special recipe
£5.15
Niramish Side
Sweet and sour variety of vegetables in dry sauce
£3.15
Niramish Meal
Sweet and sour variety of vegetables in dry sauce
£5.15
Dhall 'ki' Palak Side
Lentils and spinach
£3.15
Dhall 'ki' Palak Meal
Lentils and spinach
£5.15
Tarka Dhall Side
Lentils lightly spiced with garlic
£3.15
Tarka Dhall Meal
Lentils lightly spiced with garlic
£5.15
Motor Paneer Side
Peas and cheese in mild sauce
£3.15
Motor Paneer Meal
Peas and cheese in mild sauce
£5.15
Palak Paneer Side
Spinach and cheese
£3.15
Palak Paneer Meal
Spinach and cheese
£5.15
Bindi Bhaji Side
Fresh okra cooked in medium spices
£3.15
Bindi Bhaji Meal
Fresh okra cooked in medium spices
£5.15
Vatana Batata Side
French beans cooked with peas and potato
£3.15
Vatana Batata Meal
French beans cooked with peas and potato
£5.15
Auri aur koodu Side
Pumpkin and fresh bean curry
£3.15
Auri aur koodu Meal
Pumpkin and fresh bean curry
£5.15
Aam Diya Dhall Side
Spicy lentils with mango
£3.15
Aam Diya Dhall Meal
Spicy lentils with mango
£5.15
Baby Sweetcorn Bhaji Side
Baby sweetcorn cooked in a special sauce
£3.15
Baby Sweetcorn Bhaji Meal
Baby sweetcorn cooked in a special sauce
£5.15
Bhagun Bhaji Side
Aubergine
£3.15
Bhagun Bhaji Meal
Aubergine
£5.15
Chana Masala Side
Chickpeas
£3.15
Chana Masala Meal
Chickpeas
£5.15
Aloo Chana Side
Potato with chickpeas
£3.15
Aloo Chana Meal
Potato with chickpeas
£5.15
Curry Vegetable
Medium Hot
£5.15
Curry King Prawn
Medium Hot
£8.95
Madras Vegetable
Fairly hot
£5.15
Madras Chicken
Fairly hot
£5.95
Madras King Prawn
Fairly hot
£8.95
Korma Vegetable
Nuts
Mild with coconut
£5.15
Korma Chicken
Nuts
Mild with coconut
£5.95
Korma Paneer
Nuts
Mild with coconut
£5.95
Korma Lamb
Nuts
Mild with coconut
£6.95
Korma Prawn
Nuts
Mild with coconut
£6.95
Korma King Prawn
Nuts
Mild with coconut
£8.95
Bhuna Vegetable
Medium with tomatoes
£5.15
Bhuna Chicken
Medium with tomatoes
£5.95
Bhuna Paneer
Medium with tomatoes
£5.95
Bhuna Lamb
Medium with tomatoes
£6.95
Bhuna Prawn
Medium with tomatoes
£6.95
Bhuna King Prawn
Medium with tomatoes
£8.95
Rogan Vegetable
Medium with tomatoes
£5.15
Rogan Chicken
Medium with tomatoes
£5.95
Rogan Paneer
Medium with tomatoes
£5.95
Rogan Lamb
Medium with tomatoes
£6.95
Rogan Prawn
Medium with tomatoes
£6.95
Rogan King Prawn
Medium with tomatoes
£8.95
Dopiaza Vegetable
Medium with onions
£5.15
Dopiaza Chicken
Medium with onions
£5.95
Dopiaza Paneer
Medium with onions
£5.95
Dopiaza Lamb
Medium with onions
£6.95
Dopiaza Prawn
Medium with onions
£6.95
Dopiaza King Prawn
Medium with onions
£8.95
Methi Vegetable
Medium with fenugreek leaves
£5.15
Methi Chicken
Medium with fenugreek leaves
£5.95
Methi Paneer
Medium with fenugreek leaves
£5.95
Methi Lamb
Medium with fenugreek leaves
£6.95
Methi Prawn
Medium with fenugreek leaves
£6.95
Methi King Prawn
Medium with fenugreek leaves
£8.95
Palak Vegetable
medium with spinach
£6.95
Palak Chicken
medium with spinach
£7.95
Palak Paneer
medium with spinach
£7.95
Palak Lamb
medium with spinach
£8.95
Palak Prawn
medium with spinach
£8.95
Palak King Prawn
medium with spinach
£10.95
Tikka Masala Vegetable
Nuts
£6.95
Tikka Masala Chicken
Nuts
£7.95
Tikka Masala King Prawn
Nuts
£10.95
Jalfrezi Vegetable
With onions, tomatoes, peppers and green chillies
£6.95
Jalfrezi Chicken
With onions, tomatoes, peppers and green chillies
£7.95
Jalfrezi Paneer
With onions, tomatoes, peppers and green chillies
£7.95
Jalfrezi Lamb
With onions, tomatoes, peppers and green chillies
£8.95
Jalfrezi Prawn
With onions, tomatoes, peppers and green chillies
£8.95
Jalfrezi King Prawn
With onions, tomatoes, peppers and green chillies
£10.95
Pasanda Vegetable
Nuts
Cooked in a mild sauce with almonds, sultanas, cashew nuts, coconut and cream
£6.95
Pasanda Chicken
Nuts
Cooked in a mild sauce with almonds, sultanas, cashew nuts, coconut and cream
£7.95
Pasanda Paneer
Nuts
Cooked in a mild sauce with almonds, sultanas, cashew nuts, coconut and cream
£7.95
Pasanda Lamb
Nuts
Cooked in a mild sauce with almonds, sultanas, cashew nuts, coconut and cream
£8.95
Pasanda Prawn
Nuts
Cooked in a mild sauce with almonds, sultanas, cashew nuts, coconut and cream
£8.95
Pasanda King Prawn
Nuts
Cooked in a mild sauce with almonds, sultanas, cashew nuts, coconut and cream
£10.95
Korai Vegetable
With capsicum, onions, herbs and spices
£6.95
Korai Chicken
With capsicum, onions, herbs and spices
£7.95
Korai Paneer
With capsicum, onions, herbs and spices
£7.95
Korai Lamb
With capsicum, onions, herbs and spices
£8.95
Korai Prawn
With capsicum, onions, herbs and spices
£8.95
Korai King Prawn
With capsicum, onions, herbs and spices
£10.95
Dansak Vegetable
Hot, sweet and sour with lentils
£6.95
Dansak Chicken
Hot, sweet and sour with lentils
£7.95
Dansak Paneer
Hot, sweet and sour with lentils
£7.95
Dansak Lamb
Hot, sweet and sour with lentils
£8.95
Dansak Prawn
Hot, sweet and sour with lentils
£8.95
Dansak King Prawn
Hot, sweet and sour with lentils
£10.95
Pathia Vegetable
Hot, sweet and sour in a thick sauce
£6.95
Pathia Chicken
Hot, sweet and sour in a thick sauce
£7.95
Pathia Paneer
Hot, sweet and sour in a thick sauce
£7.95
Pathia Lamb
Hot, sweet and sour in a thick sauce
£8.95
Pathia Prawn
Hot, sweet and sour in a thick sauce
£8.95
Pathia King Prawn
Hot, sweet and sour in a thick sauce
£10.95
Malaya Vegetable
Medium spiced with pineapple
£6.95
Malaya Chicken
Medium spiced with pineapple
£7.95
Malaya Paneer
Medium spiced with pineapple
£7.95
Malaya Lamb
Medium spiced with pineapple
£8.95
Malaya Prawn
Medium spiced with pineapple
£8.95
Malaya King Prawn
Medium spiced with pineapple
£10.95
Ceylon Vegetable
Fairly hot with coconut
£6.95
Ceylon Chicken
Fairly hot with coconut
£7.95
Ceylon Paneer
Fairly hot with coconut
£7.95
Ceylon Lamb
Fairly hot with coconut
£8.95
Ceylon Prawn
Fairly hot with coconut
£8.95
Ceylon King Prawn
Fairly hot with coconut
£10.95
Butter Vegetable
Nuts
Grilled and cooked in pure butter ghee and fresh cream
£6.95
Butter Chicken
Nuts
Grilled and cooked in pure butter ghee and fresh cream
£7.95
Butter Paneer
Nuts
Grilled and cooked in pure butter ghee and fresh cream
£7.95
Butter Lamb
Nuts
Grilled and cooked in pure butter ghee and fresh cream
£8.95
Butter Prawn
Nuts
Grilled and cooked in pure butter ghee and fresh cream
£8.95
Butter King Prawn
Nuts
Grilled and cooked in pure butter ghee and fresh cream
£10.95
Makhani Vegetable
Nuts
Grilled and cooked in a mild thick sauce with butter, yoghurt and fresh cream
£6.95
Makhani Chicken
Nuts
Grilled and cooked in a mild thick sauce with butter, yoghurt and fresh cream
£7.95
Makhani Paneer
Nuts
Grilled and cooked in a mild thick sauce with butter, yoghurt and fresh cream
£7.95
Makhani Lamb
Nuts
Grilled and cooked in a mild thick sauce with butter, yoghurt and fresh cream
£8.95
Makhani Prawn
Nuts
Grilled and cooked in a mild thick sauce with butter, yoghurt and fresh cream
£8.95
Makhani King Prawn
Nuts
Grilled and cooked in a mild thick sauce with butter, yoghurt and fresh cream
£10.95
Curry Chicken Tikka
Medium Hot
£6.95
Curry Lamb Tikka
Medium Hot
£7.95
Madras Chicken Tikka
Fairly hot
£6.95
Madras Lamb Tikka
Fairly hot
£7.95
Korma Chicken Tikka
Nuts
Mild with coconut
£6.95
Korma Lamb Tikka
Nuts
Mild with coconut
£7.95
Bhuna Chicken Tikka
Medium with tomatoes
£6.95
Bhuna Lamb Tikka
Medium with tomatoes
£7.95
Rogan Chicken Tikka
Medium with tomatoes
£6.95
Rogan Lamb Tikka
Medium with tomatoes
£7.95
Dopiaza Chicken Tikka
Medium with onions
£6.95
Dopiaza Lamb Tikka
Medium with onions
£7.95
Methi Chicken Tikka
Medium with fenugreek leaves
£6.95
Methi Lamb Tikka
Medium with fenugreek leaves
£7.95
Palak Chicken Tikka
medium with spinach
£8.95
Palak Lamb Tikka
medium with spinach
£9.95
Tikka Masala Chicken Tikka
Nuts
£8.95
Tikka Masala Lamb Tikka
Nuts
£9.95
Jalfrezi Chicken Tikka
With onions, tomatoes, peppers and green chillies
£8.95
Jalfrezi Lamb Tikka
With onions, tomatoes, peppers and green chillies
£9.95
Pasanda Chicken Tikka
Nuts
Cooked in a mild sauce with almonds, sultanas, cashew nuts, coconut and cream
£8.95
Pasanda Lamb Tikka
Nuts
Cooked in a mild sauce with almonds, sultanas, cashew nuts, coconut and cream
£9.95
Korai Chicken Tikka
With capsicum, onions, herbs and spices
£8.95
Korai Lamb Tikka
With capsicum, onions, herbs and spices
£9.95
Dansak Chicken Tikka
Hot, sweet and sour with lentils
£8.95
Dansak Lamb Tikka
Hot, sweet and sour with lentils
£9.95
Pathia Chicken Tikka
Hot, sweet and sour in a thick sauce
£8.95
Pathia Lamb Tikka
Hot, sweet and sour in a thick sauce
£9.95
Malaya Chicken Tikka
Medium spiced with pineapple
£8.95
Malaya Lamb Tikka
Medium spiced with pineapple
£9.95
Ceylon Chicken Tikka
Fairly hot with coconut
£8.95
Ceylon Lamb Tikka
Fairly hot with coconut
£9.95
Butter Chicken Tikka
Nuts
Grilled and cooked in pure butter ghee and fresh cream
£8.95
Butter Lamb Tikka
Nuts
Grilled and cooked in pure butter ghee and fresh cream
£9.95
Makhani Chicken Tikka
Nuts
Grilled and cooked in a mild thick sauce with butter, yoghurt and fresh cream
£8.95
Makhani Lamb Tikka
Nuts
Grilled and cooked in a mild thick sauce with butter, yoghurt and fresh cream
£9.95
House Special
Shredded chicken and lamb tikka, prawn, garlic and cheese, dry sauce
£6.95
Aloo Tikki
Fried potato cakes highly spiced
£3.15
Murgh Kaleji
Chicken liver and mushrooms sauteed with chopped ginger, lime and light spices
£4.50
Fish Croquettes
Mashed fish with potato in medium spices, coated in egg white and deep fried
£4.00
Bhaigan Katri
Aubergine rings stuffed with vegetables
£3.15
Salad De Caranguejos
Crab cooked with coconut and curry leaves in very light spices
£6.95
Chicken Pakora
Minced chicken mixed with spices, coated in batter and deep fried
£4.00
Tandoori Mushrooms
With a mint chutney and a tamarind date sauce
£3.50
Spicy Chicken Wings
Chicken wings marinated in tandoori spices and cooked in clay oven
£4.00
Steamed Mussels
With an orange sauce
£5.95
Tandoori Chicken Starter
On the bone spring chicken marinated in herbs and spices, cooked in the clay oven
£4.00
Tikka Starter Chicken
Chicken or lamb marinated in herbs and spices, cooked in the clay oven
£4.00
Tikka Starter Lamb
Chicken or lamb marinated in herbs and spices, cooked in the clay oven
£4.00
Puri Prawn
Succulent prawn or chicken cooked with an evocative blend of spices served on fried bread
£4.25
Puri Lamb
Succulent prawn or chicken cooked with an evocative blend of spices served on fried bread
£4.25
Puri Chicken
Succulent prawn or chicken cooked with an evocative blend of spices served on fried bread
£4.25
Suka Aash
Duck in a tamarind sauce
£6.50
Chaat Chicken
Diced chicken cooked in a chaat masala, with finely chopped cucumber, tomatoes and mixed herbs
£4.00
Chaat Lamb
Diced chicken cooked in a chaat masala, with finely chopped cucumber, tomatoes and mixed herbs
£4.00
Chaat Prawn
Diced chicken cooked in a chaat masala, with finely chopped cucumber, tomatoes and mixed herbs
£4.00
Seekh Kebab
Minced lamb marinated in lemon juice, mint, coriander, onion, garlic and green chilli, cooked in the tandoor
£4.00
Kebab Shami
Ground lamb mixed with precooked legume and curry spices, formed as a hamburger patty and pan-fried
£4.00
Kebab Reshmi
Ground lamb mixed with precooked legume and curry spices, formed as a hamburger patty and pan-fried
£4.00
Mixed Platter
Selection of lamb, chicken and vegetables
£5.95
Tandoori King Prawn
King prawns grilled in the clay oven with fresh herbs and spices
£6.95
King Prawn Puri
Large king prawns cooked with an evocative blend of spices served on fried bread
£6.95
King Prawn Butterfly
King prawns slightly spiced, coated in golden breadcrumbs and deep fried
£5.95
Garlic Mushroom
Mushrooms sliced, cooked with garlic and light spices
£3.15
Tandoori Lamb Chops Starter
On the bone lamb chops, marinated in herbs and spices, cooked in the charcoal clay oven
£6.50
Murgh Sati
Diced chicken marinated in light spices with lime zest and grilled
£4.00
Prawn Cocktail
Prawn served with mayonnaise, flavoured with tomato puri and served with salad
£3.95
Nimbuwall Scallops
Lime and coriander flavoured, stir fried queen scallops
£6.95
Spice of Bruerne Special Mix Biriani
£11.95
Deshi Biriani Chicken
Shredded chicken or lamb, mushroom and chickpeas
£11.95
Deshi Biriani Lamb
Shredded chicken or lamb, mushroom and chickpeas
£11.95
House Special Naan
Chopped chicken tikka with fresh coriander and cheese
£3.15
Stuffed Paratha
Stuffed with vegetables
£2.70
Special Mixed Tandoori
Chicken tikka, lamb tikka, paneer tikka, seekh kebab, grilled vegetable, garnished spicy onions and peppers, served with naan bread
£12.95
Tandoori Sea Bass
Sea bass fillets marinated herbs and spices, grilled in clay oven
£12.95
Tandoori Jhinga
King prawn grilled in the clay oven with fresh herbs and spices
£12.95
Salmon Tikka
Marinated salmon fillets grilled in the clay oven with fresh herbs and spices
£12.95
Tandoori Lamb Chops
Lamb chops marinated in tandoori sauce and herbs
£11.95
Tandoori Mixed Grill
Marinated chicken and lamb tikka, seekh kebab and tandoori chicken grilled in clay oven, garnished with fried onion and served with naan bread
£11.95
Tandoori Chicken
On the bone chicken marinated in herbs and spice served with naan
£7.95
Tiger Prawn Shashlik
Grilled with tomatoes capsicum and onion, cooked in clay oven
£10.95
King Prawn Shashlik
Grilled with tomatoes capsicum and onion, cooked in clay oven
£11.95
Vegetable Shashlik (mixed vegetables)
Grilled with onion, tomatoes, capsicum in the clay oven
£6.95
Paneer Tikka Shashlik
Traditional Indian cheese grilled with tomatoes capsicum and onion and herbs
£8.95
Tikka Chicken
Marinated in sauce and grilled in clay oven
£8.95
Tikka Lamb
Marinated in sauce and grilled in clay oven
£8.95
Special Fried Rice
Fried egg, peas and onions
£3.15
Kashmiri Rice
Nuts
Nuts and almonds
£3.15
Keema Rice
Spiced minced lamb in basmati rice
£3.50
Spice of Bruerne Special Mix Balti
£11.95
Deshi Balti Chicken Tikka
Shredded chicken or lamb tikka, mushroom and chickpeas
£11.95
Deshi Balti Lamb Tikka
Shredded chicken or lamb tikka, mushroom and chickpeas
£11.95
Contact Us
Find Us
5 Canal Side, Bruerne, NN127SE
We deliver to
MK19, NN12, NN4, NN7